4. 11. 2022
Removal of ferrous and non-ferrous metal contaminants from plastic regrind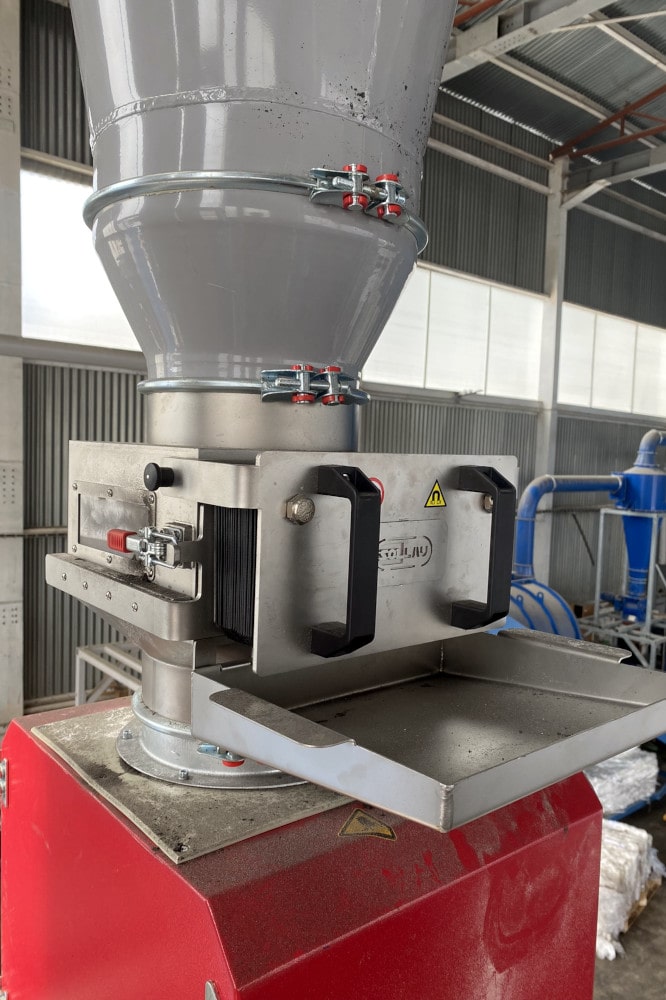 Initial status
The recycling of plastic materials is carried out by varied machinery (like mills, shredders, granulators) and that is why the e. g. recycled crushed plastics can be easily contaminated with metals (e. g. fragments of knives from shredders). In addition, metal particles are often found in the input material, as some plastic parts are originally metal plated or combined with metal materials).
Problem
Our customer (that processes used plastics and manufactures plastic regrind) had never had problems with contaminated input material and therefore considered protection against metal contaminants as a waste of money. However, he recently produced a large amount of plastic regrind from material contaminated with metal particles, which unfortunately was only discovered by his end client customer after the transformation of the plastic regrind into final plastic products… The subsequent massive quality complaint and the need to pay the resulting damages led our client to purchase a magnetic separator and a metal detector.
---
Solution
After crushing, the plastic regrind is transported in a pipeline by suction and subsequently falls by gravity into the packaging sector. And exactly at this place we installed a drawer magnet MSS-MC LUX (with five neodymium bars generating a magnetic induction of 18,700 Gauss), followed by a metal separator Quicktron 03 R. The combined separation system prevented the penetration of any unwanted metal particles into the final product, thus meeting the requirements of our client.
Reasons for the combined application of the magnetic separator MSS-MC LUX together with the metal detector Quicktron 03 R:
In addition to the extremely high magnetic efficiency, the magnetic separator MSS-MC LUX is also equipped with an excellent protection system of the magnetic cores (protective bellows + tube-in-tube system = extended machine life).
As there is a poor access to the application place (that is located relatively high), another reason for purchasing exactly this particular separator was the fact that the separator is fit with guide rails arranging for very quick and easy cleaning.
And as generally around 70 % of all metal contaminants are magnetic (= they can be captured by a magnetic separator), a magnetic separator is also significantly more efficient than a detector (besides, the magnetic separator can eliminate, for example, also magnetic dust - and even from the size of 1 micrometer!). However, as the clients of our customer place high demands on the quality of the final products, removing only magnetic metals from the plastic regrind would not be a satisfactory solution. Therefore, we placed the metal detector Quicktron 03 R behind the magnetic separator and ensured in this way the separation of all (both magnetic and non-magnetic) metal particles from the plastic regrind.
Financial benefits of our solution for the client
As the costs of the single claim were defined by our client at approximately 50 % of the total price of our dual metal separation system, the return on investment was extremely fast.