Transport technologies for the plastics industry
JACOB Pipe Systems
Modular JACOB components can be used for creation of even most complicated pipe systems.
Over 8,000 standardized parts
Diameter from 60 to 1,600 mm
Wall thickness from 1 to 3 mm
Stainless steel
Mild steel with powder coating or hot-dip galvanizing
Cyclones and silencers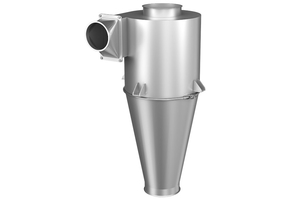 Characteristics: Cyclones are available in diameters from 25.4 cm to 99.06 cm with lipped connections and in diameters from 111.76 cm to 229.87 cm with welded-on flanges. Wall thickness: from 1.63 mm or 2.31 mm, with various types of surface treatments. Functionality of cyclones depends on the volumetric flow, pressure loss, material amount and the material size.
Pipe silencers are delivered in lengths of 50.8 cm, 99.06 cm and 149.86 cm, and in diameters from 7.62 cm to 63.5 cm. They are manufactured from various materials (according to client's needs), with the wall thickness of 2.31 mm.
Application: Cyclones are used to separate either valuable raw materials or unwanted solid particles. Silencers reduce the noise level in pipe systems.
Conveyor systems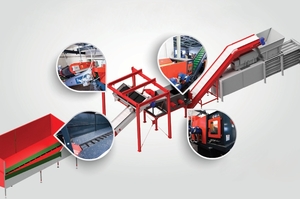 Characteristics: Dimensions, belt conveyor materials, drive units, mounts and also additional elements exactly meet individual demands of our clients and result in an easy service and maintenance.
We deliver not only small belt conveyors, but also multi-functional conveyors. Besides, magnetic belt conveyors are available as well.
Vibratory sieves
Characteristics: The material sizing is carried out by the application of several sieves (= screens). In comparison to common spring sorting machines, the vibratory sieves are more accurate, less noisy and have higher operational capacity.
Usage: Sorting of solid substances to various material sizes, dedusting of processed materials.