MSS-AC Grate separator with automatic cleaning
With MSS-AC automated grates in housing, unwanted fine ferromagnetic contaminants are easily removed from free-falling bulk materials. At the same time, expensive production technologies are protected from damage. These magnetic separators are exceptionally strong and can capture even weakly magnetic or paramagnetic particles (e. g. stainless steel).
Design of the grid magnetic separators with automatic cleaning
The self-cleaning grate in housing consists of several grids (formed with magnetic cores in protective stainless steel tubes). For example in case of a two-grid separator, the upper magnetic grate contains one magnetic tube less. Thus, the magnetic tubes of the first row cover the gap between the tubes of the next row. Thanks to this arrangement, the cleaned material falls through a dense sieve and the extremely strong field of neodymium magnets captures all magnetic particles on the surface of the protective tubes.  
The entire separator is made of stainless steel according to DIN 1.4301 (guaranteeing high durability and long lifetime) and thanks to the low installation profile the separator is easy to integrate (even into the already existing processing lines).
Cleaning mode
Like most of grid separators with an easy cleaning system, the grate separators MSS-AC are cleaned by sliding the magnet cores out of the protective tubes. Iron contaminants held on the tubes' surface by the magnetic field falls down the ferrous discharge chute. The cleaning intervals are set individually (according to the client's needs, to the contamination of the processed material by ferromagnetic particles etc.). Automatic cleaning itself is ensured by means of pneumatic elements and a programmable control unit. The control panel with a touch display ensures quick and comfortable setting of all required parameters. Thanks to its self-cleaning properties, this separator is also used in fully automated production lines. The self-cleaning system has a number of advantages: fast and easy cleaning, in most cases without interruption of the production process, cleaning intervals can be pre-set electronically, the ferrous contaminants do not need to be removed laboriously from the surface of the protective tubes and the risk of injury with a metal particle in the course of cleaning has been also eliminated.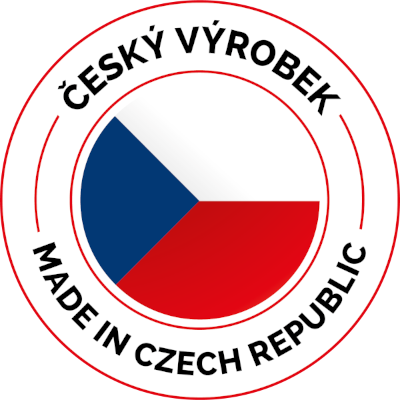 Max. magnetic induction: up to 18 700 Gauss on the magnetic core and up to 12 200 Gauss on the surface of the protective tubes (with a tolerance of +/- 10%).